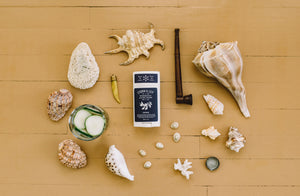 Storm & Leif
Captain
Sale price Price $12.99 Regular price
Salted air and cucumber sandwiches, m
int for the cocktail and citrus for the scurvy. T
his will help you keep cool at the helm or on the cricket pitch, wherever the tide may take you.
Every Storm & Leif product is: 
100% Natural Deodorant
USDA Certified Organic
GMO, Aluminum & Paraben Free
Made from edible ingredients
Handmade in small batches in the USA
One dollar of every product purchased is donated to charity. 
Ingredients: Coconut Oil (Cocos Nucifera)*, Carnauba Wax (Copernicia Cerifera)*, Arrowroot Powder (Maranta Arundinacea)*, Shea Butter (Butyrospermum Parkii)*, Baking Soda (Sodium Bicarbonate)*, Ravensara Essential Oil (Agathophyllum Aromatica)*, Coconut Essential Oil (Cocos Nucifera)*, Rosemary Essential Oil (Rosmarinus Officinalis)*, Juniper Essential Oil (Juniperus Communis L.)*, Peppermint Essential Oil (Mentha Piperita)*.
*Certified Organic